If you've never explored Instagram's most popular latest feature, Instagram Reels, this may be the perfect time to give it a try.
Launched in the summer of 2020, Instagram Reels was the response to Instagram's biggest competitor, TikTok, which has over one billion monthly active users.
With TikTok's impressive spike in popularity, Instagram had to step up its game, find ways to bring in users, increase the time people spend in the app daily, and establish itself as a video entertainment platform. And this is how Instagram Reels was born!
In this article, I will show you what Instagram Reels are, how they work, how to promote them, what their benefits are, and how to use them for your business.
Without further ado, let's start!
How to leverage Instagram Reels
1. What are Instagram Reels?
Similar to TikTok, Instagram Reels allows users to create 15-second videos and add popular music, creative effects, and play with fun tools.
You can find them on the Reels tab, which is the center button at the bottom of your screen. This significant change in the app encourages users to browse and share Reels more often.
You'll discover popular and trending Instagram Reels on the Explore page, besides Reels from the accounts you already follow, which you can see in your feed, too.
Reels in Explore offers anyone the chance to become a creator on Instagram and reach new audiences on a global stage., according to Instagram.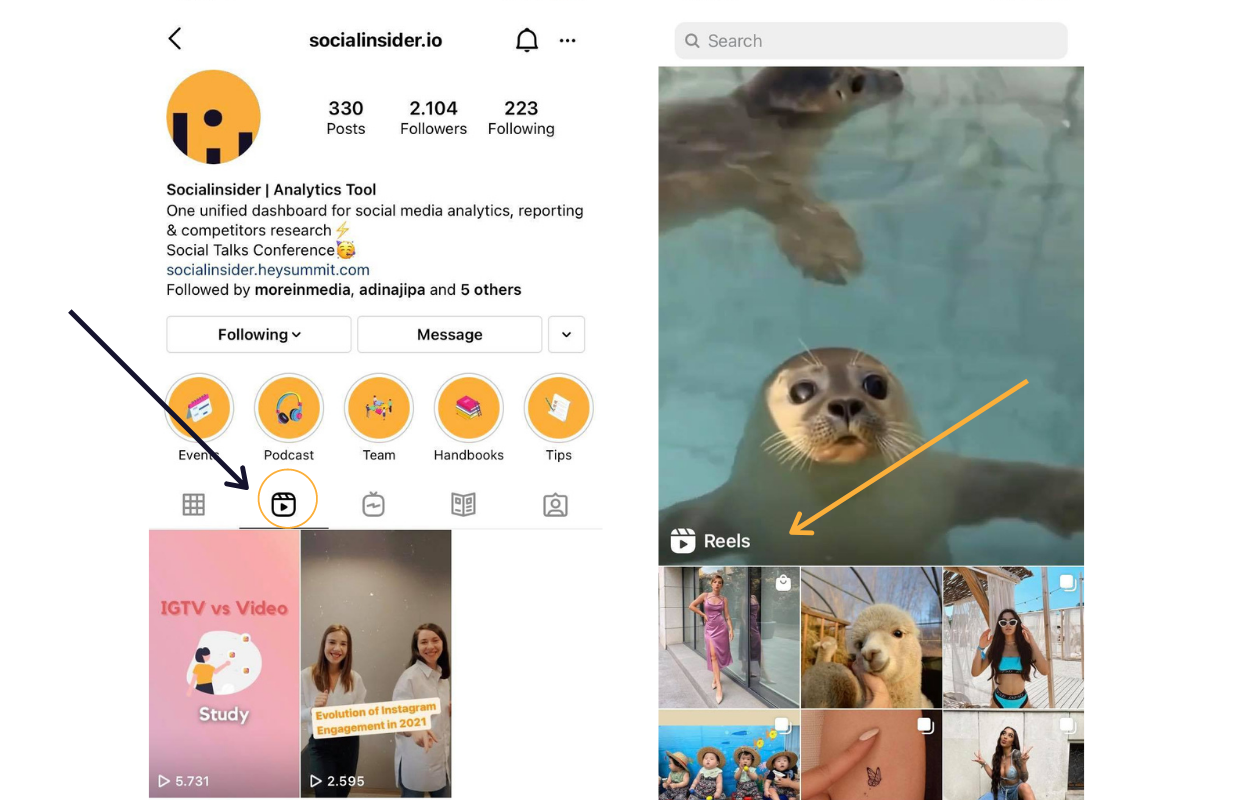 While the Instagram algorithm remains a mystery, Instagram Reels feel fairly similar to TikTok For Your page. This means that it is highly influenced by who you follow, your location, and the content you usually interact with.
2. How to create Instagram Reels
To make your own Reel, you simply need to press the plus button at the bottom of your phone, which will take you to a series of options. You'll need to select Reels (obviously) and let your imagination do its magic.
You have two options for making Reels on Instagram:
press and hold the record button to create a Reel within the app
upload a video from your gallery
You can also record Instagram Reels in a series of clips attached afterward or all at once.
Instagram Reels offers a variety of creative editing tools to customize your videos, including:
Audio – use a song from the Instagram music library and add it to your Reel to make it more dynamic. You can choose your favorite part from a song or even record your own.
Speed – this option is to change the speed of your video. You can slow down or speed up certain parts of the video to help you align it with the music.
Effects – select a special effect from Instagram's gallery created both by Instagram and by users all over the world.
Timer – set the timer to record your videos hands-free. Once you've pressed this button, you will see a 3-2-1 countdown before the recording begins.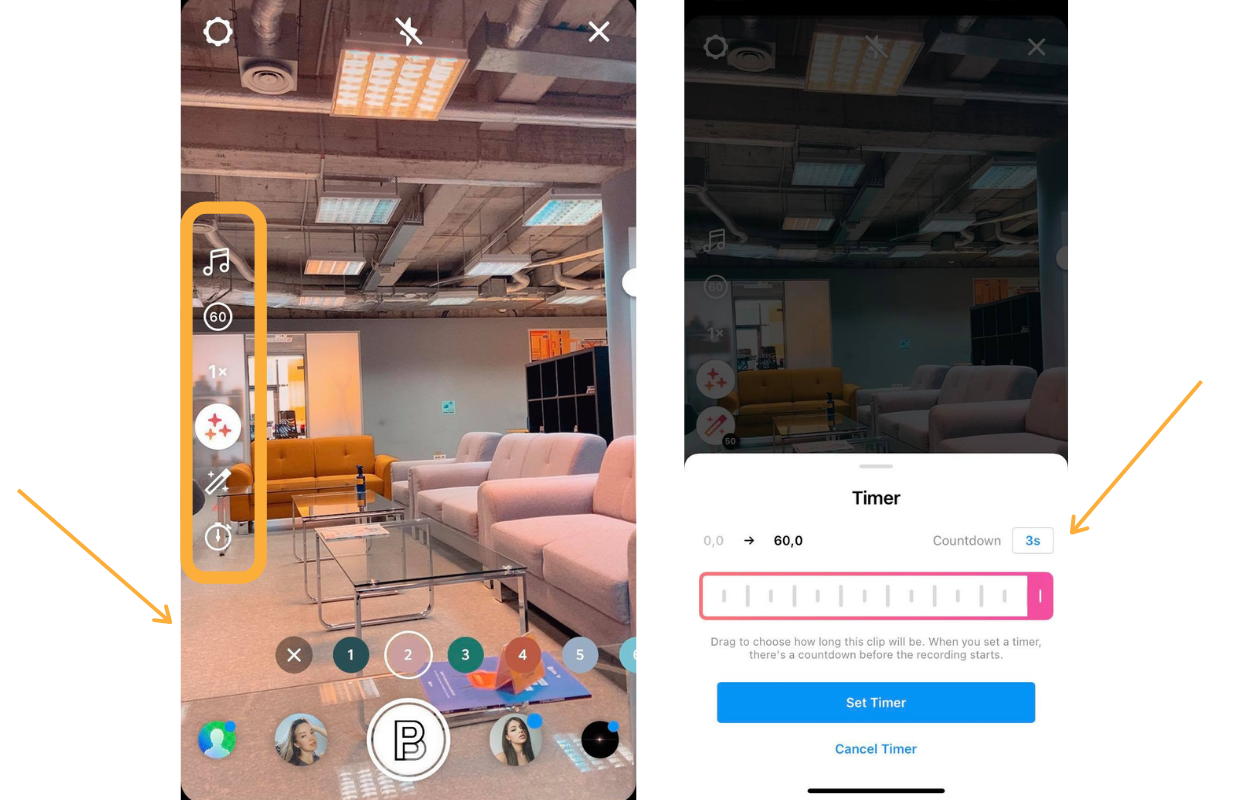 After preparing your playground, tap and hold the record button. You can click the recording button to end a clip and then click it again to start a new one.
With the Align button, you can align up your clip with the previous ones. This is extremely helpful for smooth transitions or adding new friends to your Reels.
Once you're done, you can add stickers, text, or drawings to edit your Reel and make it more fun to watch.
Easy, right?
When promoting an Instagram Reel, the first thing to do is to make sure you have the "Also Share To Feed" option turned on. This will boost your Reel to be seen by more people.
Once you've uploaded your Reel, you can remove the option by clicking "Remove from Profile Grid" and still have your post boosted. Your Reel will still show in the "Reels" section on your Instagram profile but won't clutter up your feed.
Secondly, you should always strive to create great content. Since Instagram Reels are short videos, they need to be fun and original to catch the viewer's attention.
Just like any other video content, the first seconds of your Reel are the most important, like Ginny Fears, Online Business Expert, told me.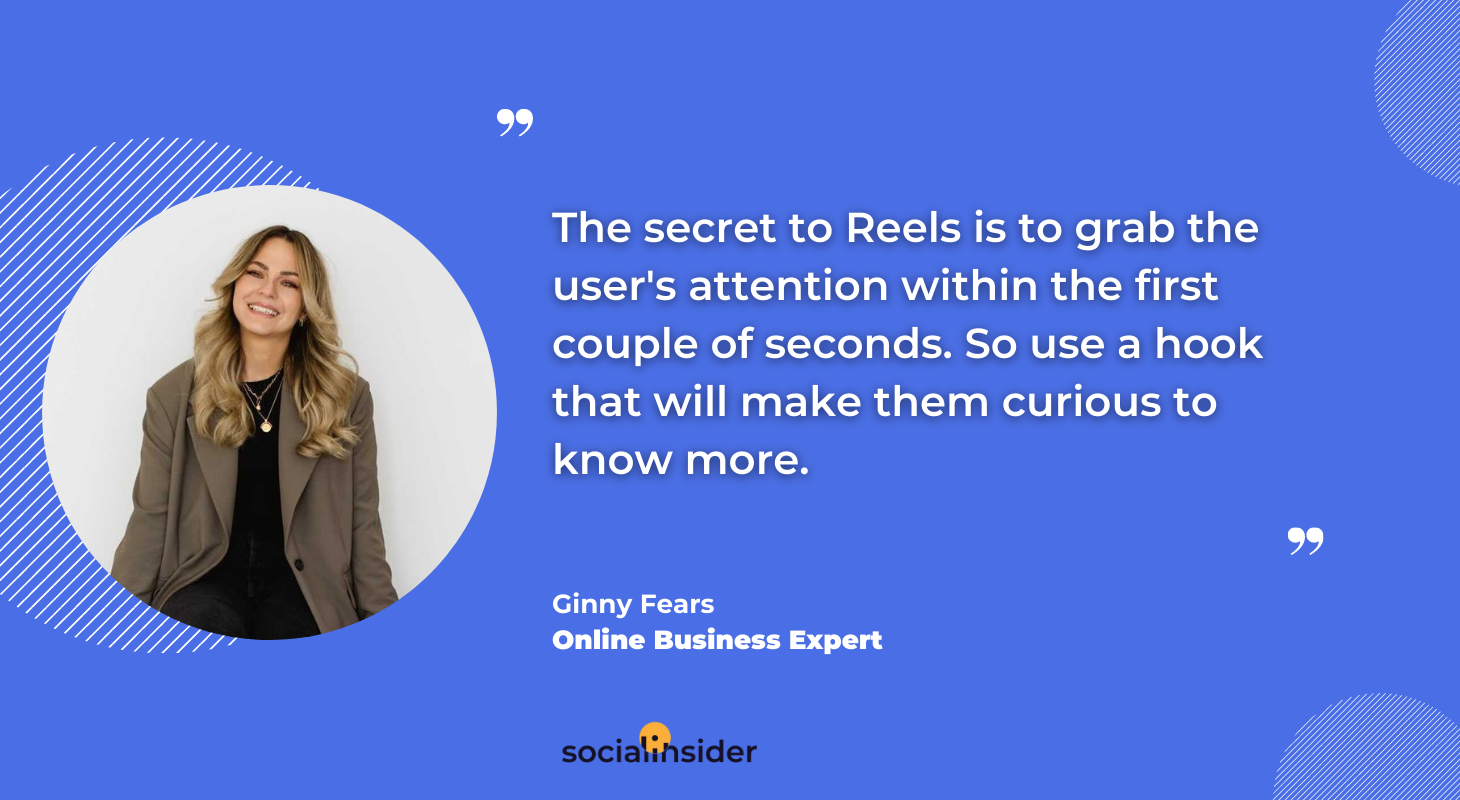 You can use popular audio, flashy text, stickers, or pronounced facial expressions to stop the viewers and make them watch your Reel until the end, like the makeup brands from the picture below do.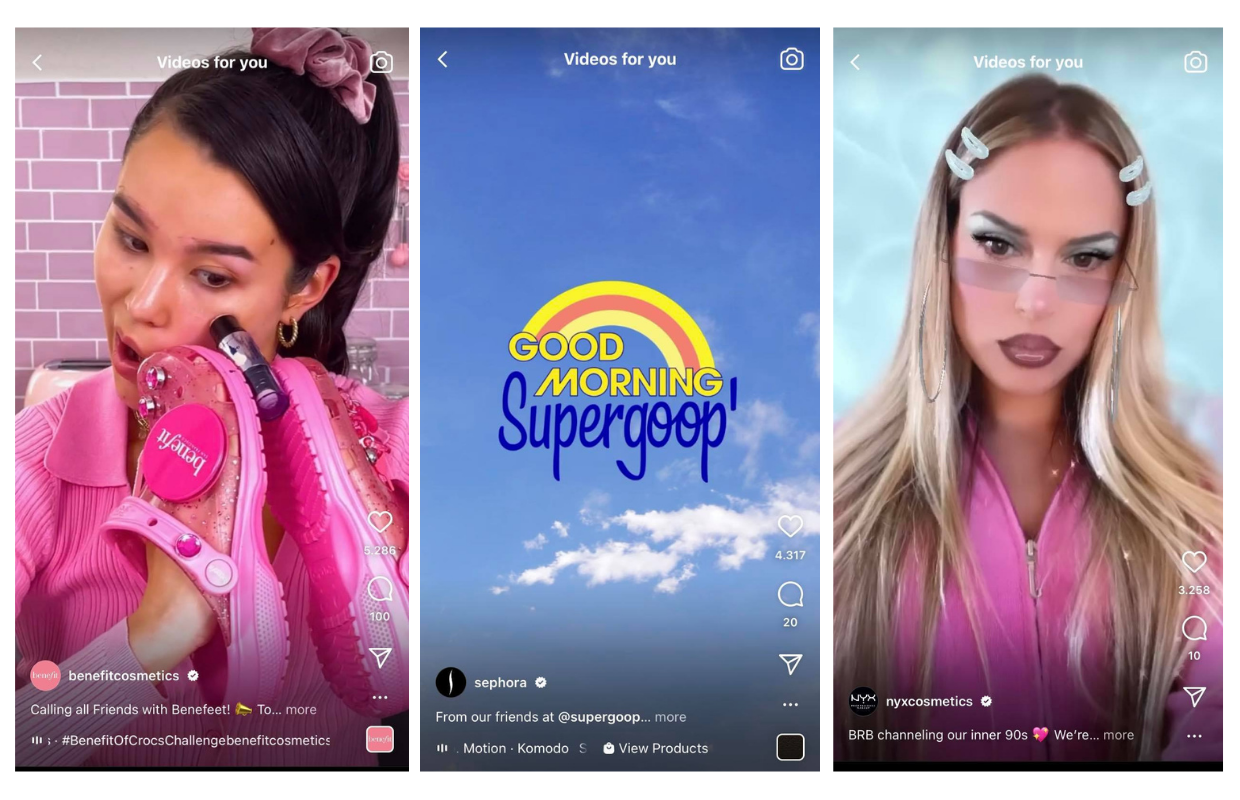 Besides, you can partner up with influencers to promote your products, especially since Instagram has introduced branded content tags. This Instagram update is a transparent way of showing users when a piece of content is branded.
4. Benefits of using Instagram Reels
Creating Instagram Reels is easy
Creating videos usually means a lot of time, effort, and money. However, Instagram Reels are easy to make since they are designed as short videos. Plus, you can create them directly from the app.
Instagram Reels are not only quick to make, but they are prone to be consumed as well. Our attention span became shorter and shorter over time.
Research indicates that the average adult attention span is about 8 seconds, making Instagram Reels the perfect recipe for video consumption.
Instagram Reels are permanent
Instagram already had a place to create short videos, and that is in Instagram Story. The only problem is that Stories disappear after 24 hours unless saved as highlights.
A key benefit of Instagram Reels is that they are permanent content.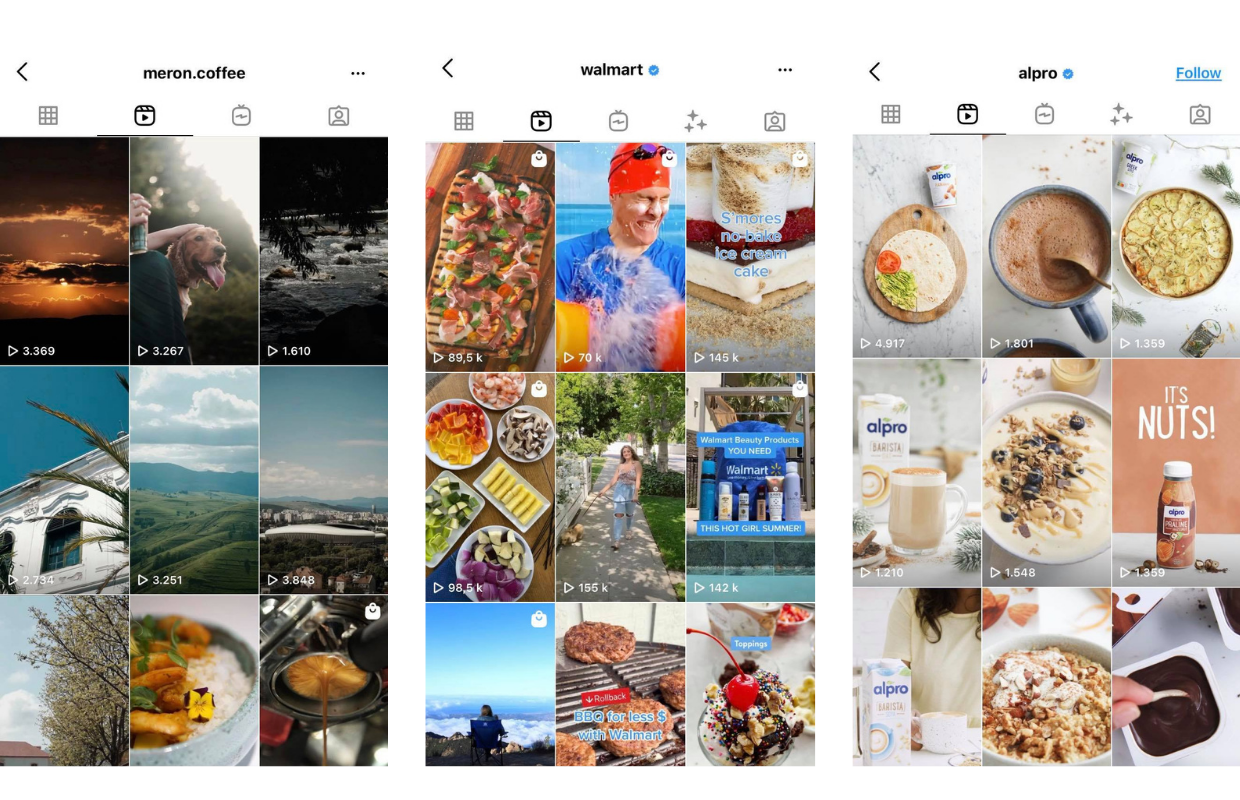 TIP: I already mentioned how easy Reels are to make. You can create batches of different Reels so you can easily use them when building your marketing calendar.
Instagram Reels have a separate section on the Hashtag page
As you've probably gotten used to already, Instagram will promote its new features intensely among its users. This is why Instagram created a separate section on the hashtag page to promote itself.
Sometimes you may want to watch Reels about a specific topic. And you can do that by tapping the hashtag from the bottom of the video, and you'll be taken to other posts with the same hashtag.
You can also do that with a specific audio you like. You simply have to tap on the Reel audio in the left corner, which will take you to other Reels that have used the same audio.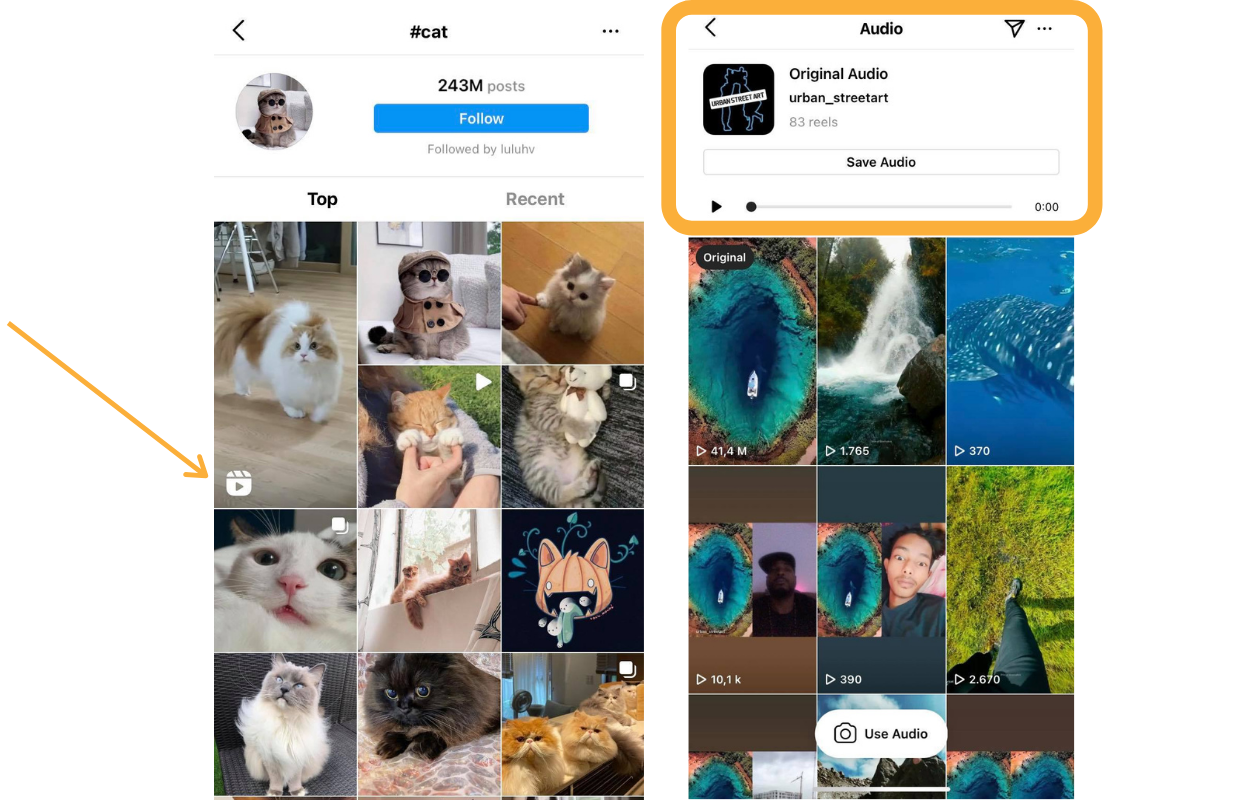 This is a great opportunity for any user who wants to push their content in front of a bigger audience.
5. Instagram Reels ideas for businesses
Brands should grab the opportunity Instagram Reels offer and engage with a new generation of users: those who prefer quick and easily digestible videos.
Instagram Reels are a new way of building a community and growing reach for businesses. Reels are not only fun, but they are prone to be shared (they go viral instantly!), so it's an easy way to create genuine relationships with your followers.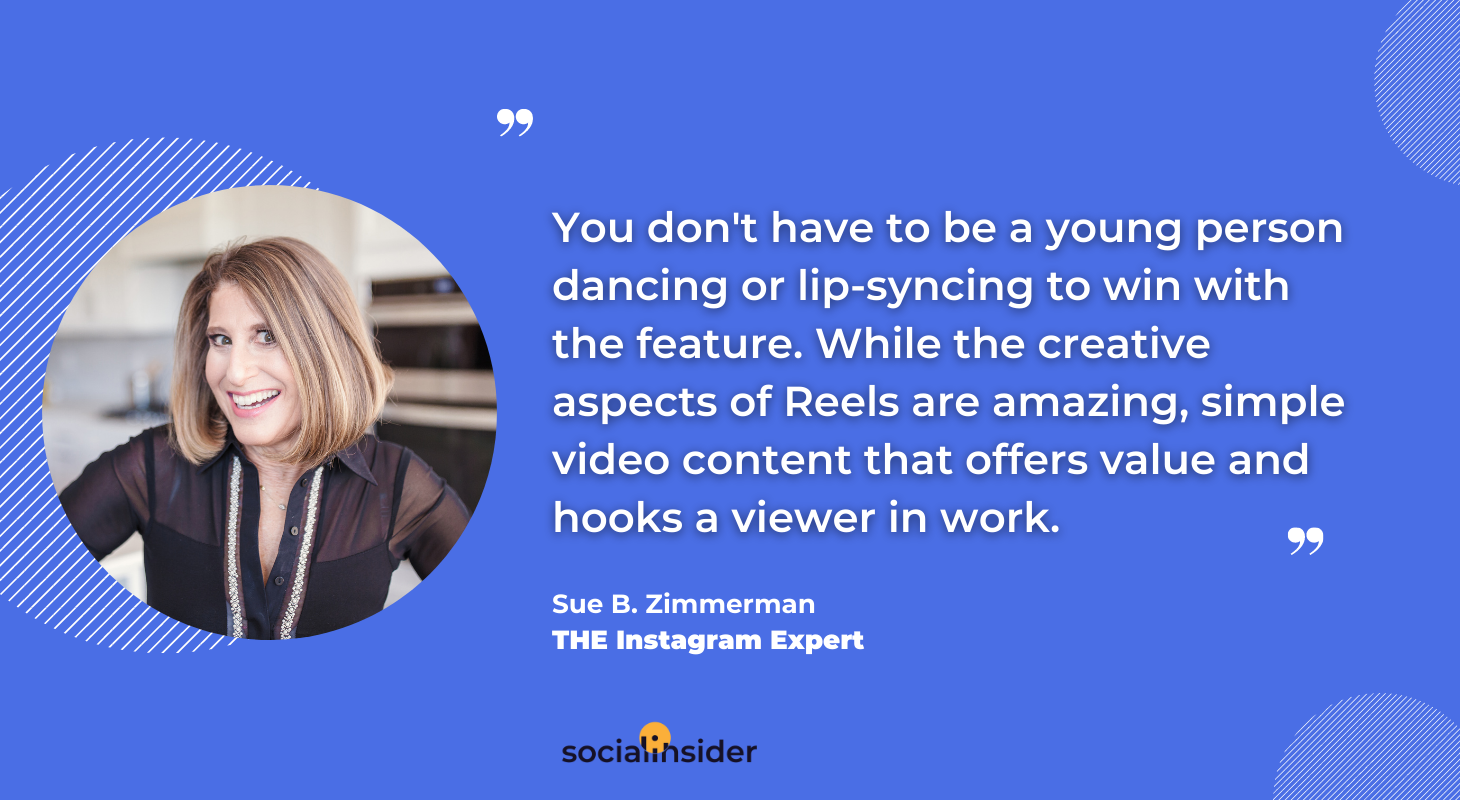 You don't have to be a young person dancing or lip-syncing to win with the feature…While the creative aspects of Reels are amazing, simple video content that offers value and hooks a viewer in work. Draw your ideal client in by speaking to the results and pain points of your offering. By simply using the Reel format you will get an increased reach – which means more eyeballs on your posts., Sue B. Zimmerman, Instagram Expert
From educational content to tutorials and showcasing products, the possibilities are endless. Here are three examples that can be applied to every business:
Show your products and services
As I mentioned before, Reels are featured on the Instagram Explore page, which means that your content will be exposed to Instagrammers who don't follow you.
Showcasing your products and services to a large audience is an opportunity you can't miss.
Through Instagram Reels, you can grow your brand awareness and increase your sales since 80% of Instagrammers decide whether to buy a product or service after seeing it on the platform.
Below is an excellent example from a local business owner who does creative and original Reels whenever a new product is launched.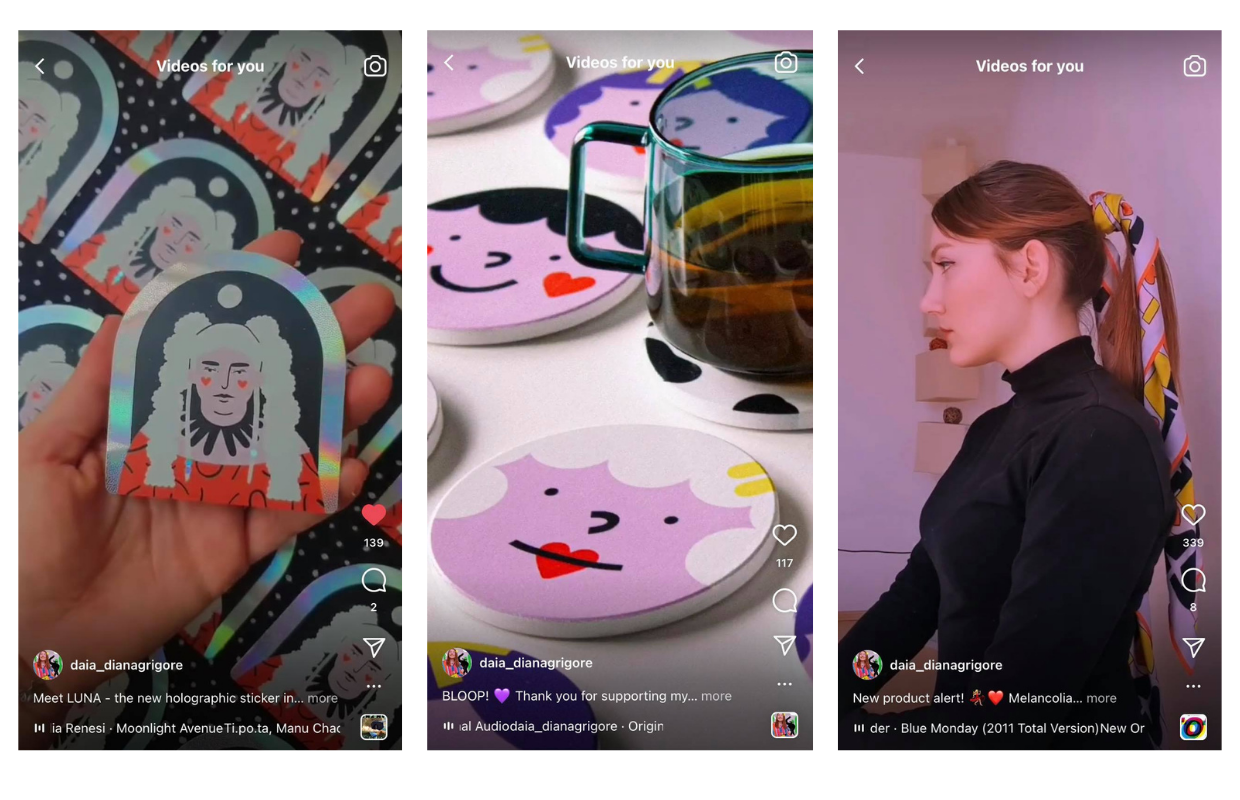 Take your followers behind the scenes
It's no secret that followers are curious about how a product is made. So pull back the curtain and take your followers behind the scenes!
Whether you are a small business owner or a large company, creating behind-the-scenes videos can be fun and effective.
Taking the time to show your customer base the whole process of making a product and the effort behind it means you care. It tells them that you want to involve them and show the human side of your brand.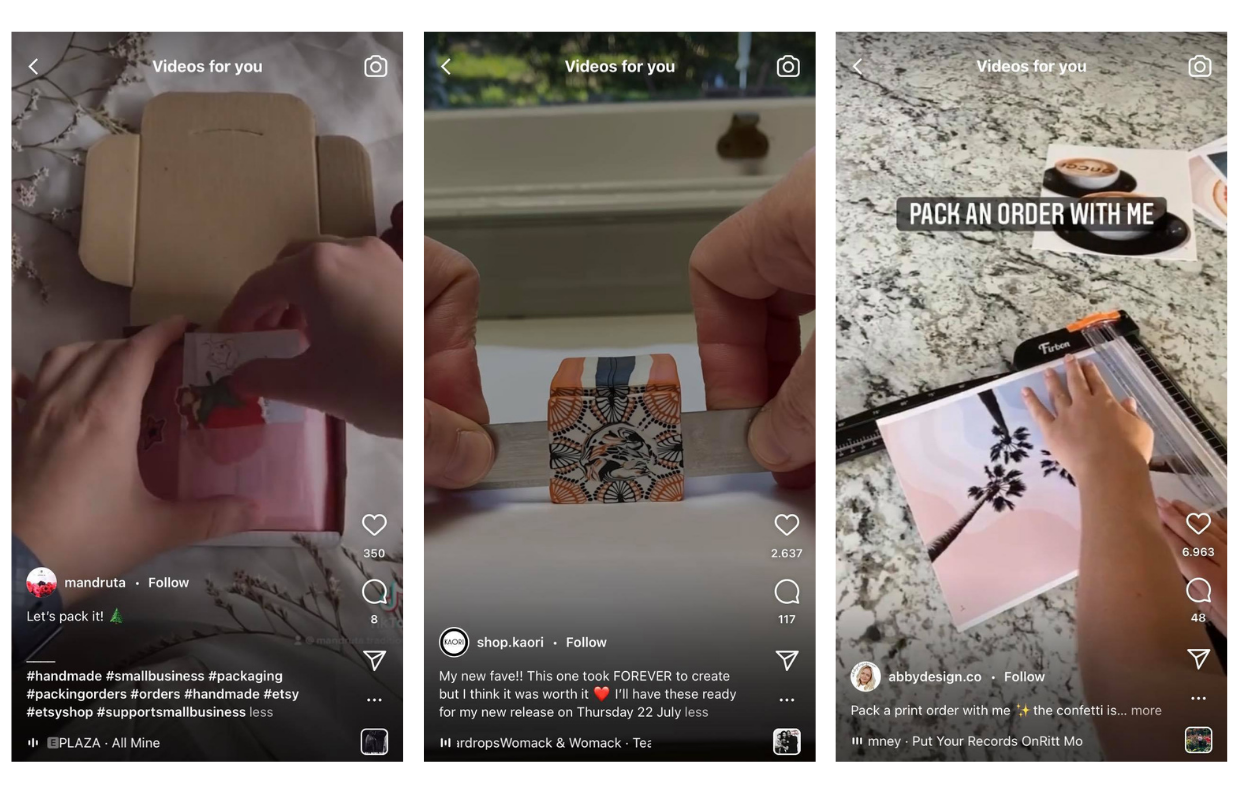 So next time you're packing a new order, creating a leather belt, or pouring a candle, take out your phone, start filming, follow the tips I shared above, and share it with your followers!
Share educational content
Use Instagram Reels to teach your followers something new or share tips and tricks from your expertise.
You can show your followers tips for creating engaging content, five ways of styling a dress, how to write the perfect caption, or how to create an Instagram strategy to increase engagement.
Sharing educational content is a great way to establish yourself as an expert in your niche and be the go-to content when people search for help on different topics.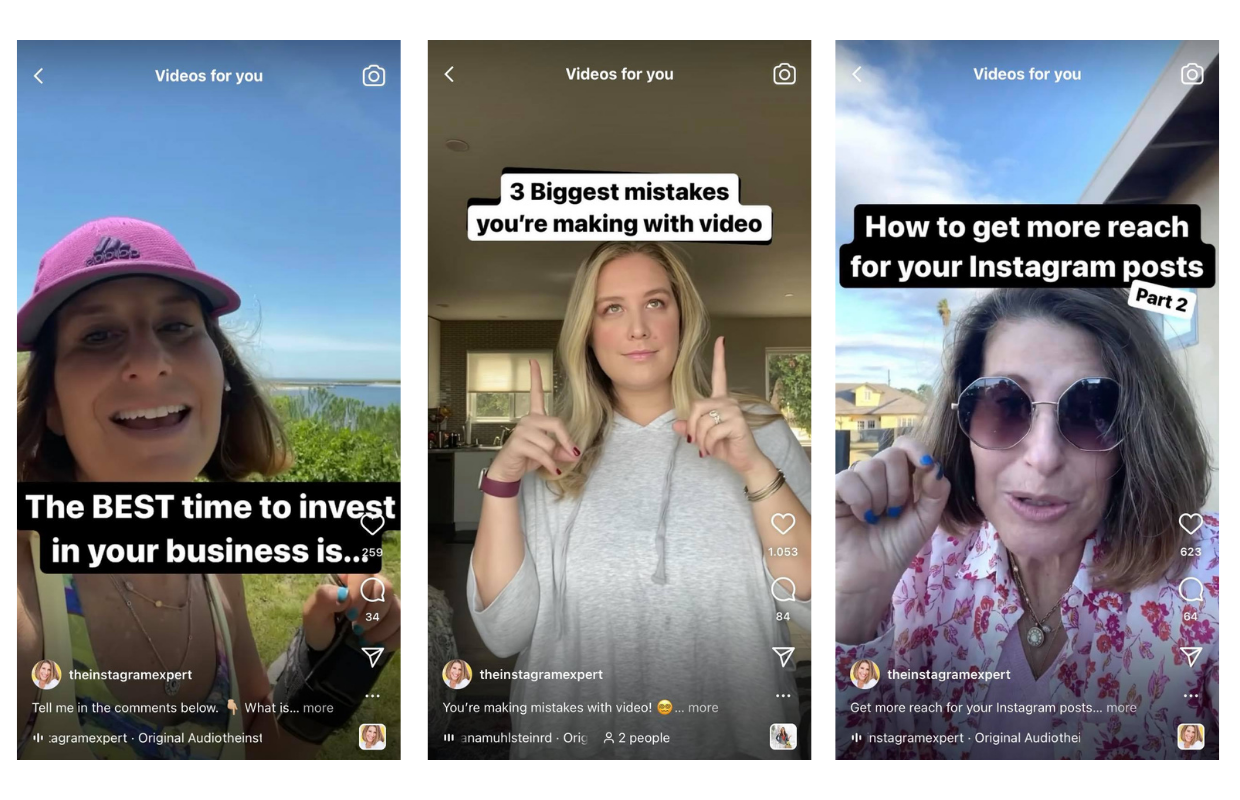 For example, Instagram expert Sue B. Zimmerman uses Instagram Reels to tell what are the biggest mistakes when making a video, how to get more reach on Instagram, or when is the best time to invest in your business. Education can be fun, right?
Final thoughts
With all these things in mind, you may wonder what is next for Instagram Reels.
Even though the Instagram algorithm hasn't been cracked yet, we might say that the future seems bright if it were to compare Instagram Reels to Instagram Stories. Launched in 2016, Instagram Stories now has more than 500 million active daily users.
One thing is certain, though. Instagram Reels allow its users to create compelling content, build relationships, and increase their reach on Instagram.
So why not give it a try?
---
Related articles: