Based on our 2021 Industry benchmarks study, we have thought of going even deeper in our analysis of social media trends.  
We wanted to help social media managers shape their strategies in the days to come and this time the chosen one was the crucial UK market.
That's why, at Socialinsider, we partnered up with Spike Digital, a consultancy agency, who specialise in search engine marketing and social media services, to better understand the social trends in the UK market.
This engagement report reveals upcoming trends on Facebook and Instagram through a comparison between 2019-2020 of important viewpoints, like the engagement rate per post, best time to post and most used type of content on each platform.
Now let's get down to business and see what this analysis revealed.
A. Engagement stats for the UK – Industry to industry social media benchmarks
B. UK industry benchmarks to inform your social media presence
1. Holiday Cottages (UK) Social Media Engagement Analysis
2. Hotels (UK) Social Media Engagement Analysis
3. Jewelry (UK) Social Media Engagement Analysis
4. Health & Fitness (UK) Social Media Engagement Analysis
5. Art & Craft (UK) Social Media Engagement Analysis
6. Artist (UK) Social Media Engagement Analysis
7. Singer (UK) Social Media Engagement Analysis
8. Musician (UK) Social Media Engagement Analysis
9. Dj (UK) Social Media Engagement Analysis
10. Broadcast-star (UK) Social Media Engagement Analysis
Facebook is known for its marketing potential, given the fact that a big part of the marketing budget of most brands is directed towards it, especially for ads, simply due to the fact it has the highest CTR.
But, in terms of engagement, Facebook is significantly outshined by its baby brother, Instagram.
1. Instagram's engagement rate is 4 times bigger than Facebook's
Maybe this is happening because of the younger audience using Instagram, or maybe because of the bigger number of features available in the platform, who knows?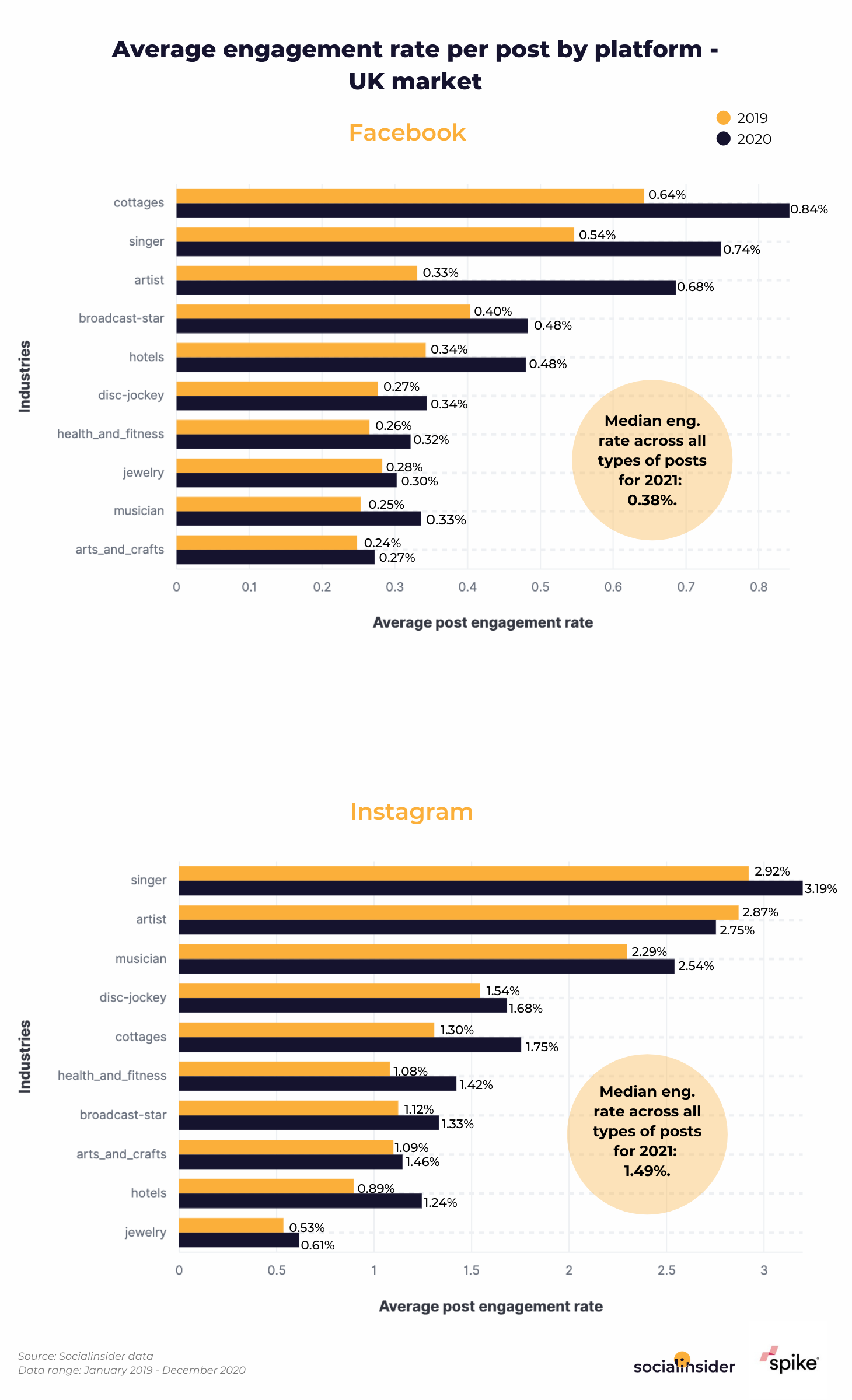 Well, according to the graphic, with Facebook having an average engagement rate of 0.38%, while Instagram's value for the same metric points to 1.49%.
It's immediately evident that Instagram's engagement rate is 4 times bigger than Facebook's.
Which is a lot.
So, this should be a pretty good indication for social media managers, of where their marketing efforts should be focussed upon.
Adding to this study's interesting discoveries it's that the leading industry in the UK on Instagram seems to be entertainment related, given the fact that the top four values are attributed to accounts directly associated to this category, while on Facebook, adding to this, is also the tourism industry, in particular, cottages.
2. Images seem to be the most used type of post
Both on Facebook and Instagram, images appear to be the most frequently used type of postings, having ownership of almost half of all the posts sent.
As shown in another dedicated study, regarding the comparison between the performance of regular videos in feeds and IGTVs, the last one seems to be the least used feature on Instagram.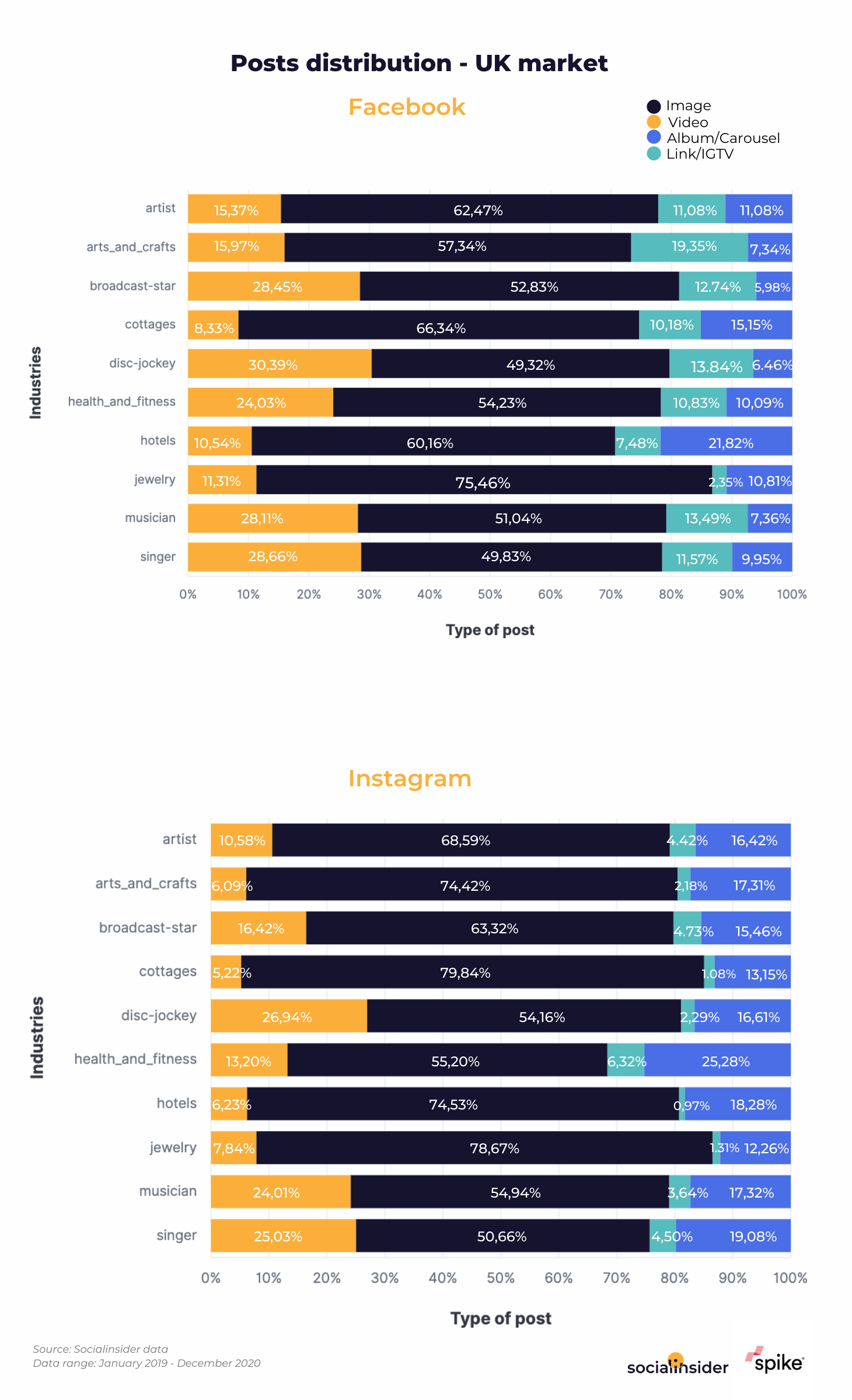 Another struggle social media managers must deal with, besides creating the actual content, is developing an optimal time schedule.
Because in order to maximize the efforts, the brand's messages should be sent when people are most available to receive it, right?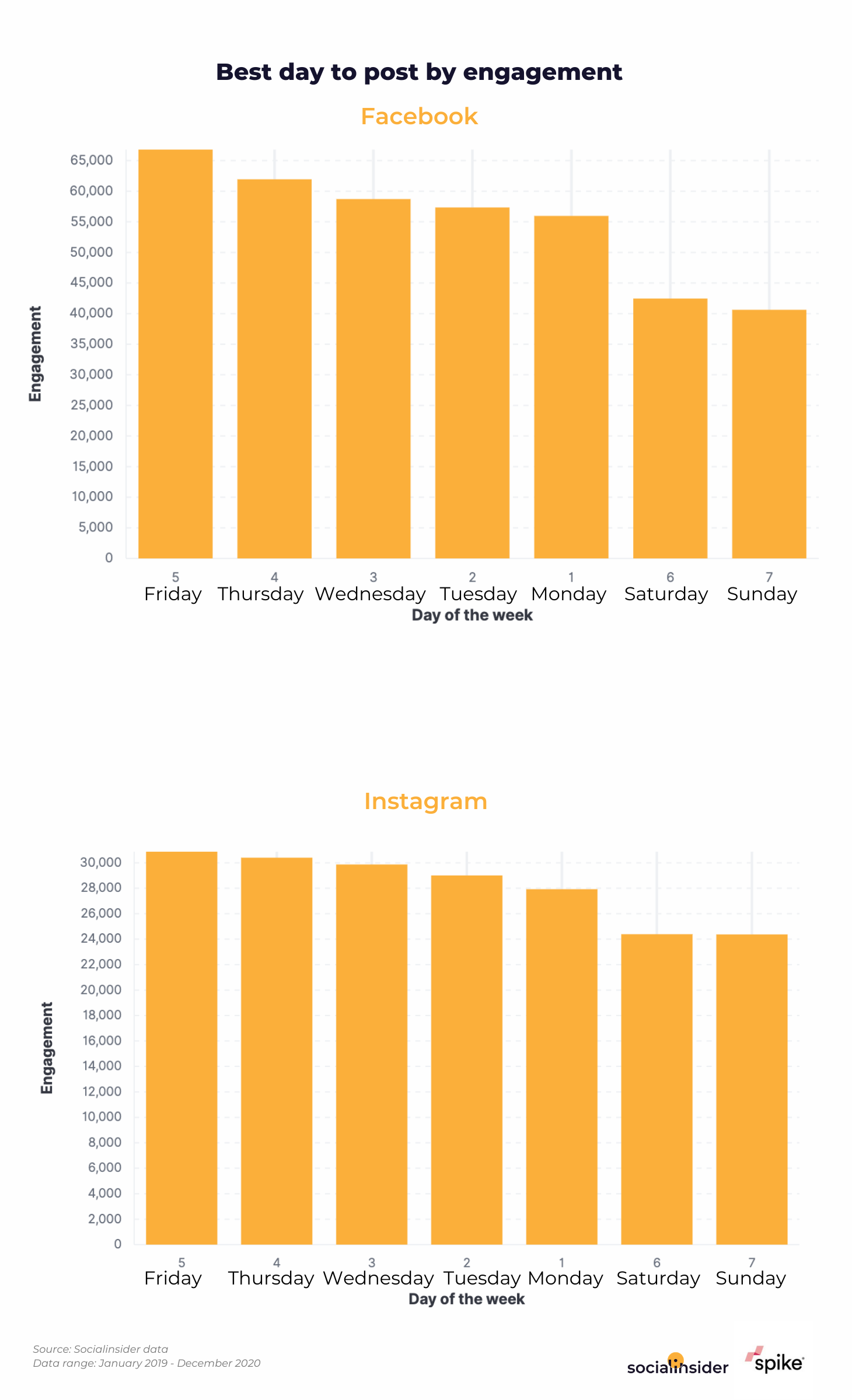 According to our data, Friday seems to be the day in which people engage the most on social media, while the best hour to post is somewhere around 5 PM on both platforms.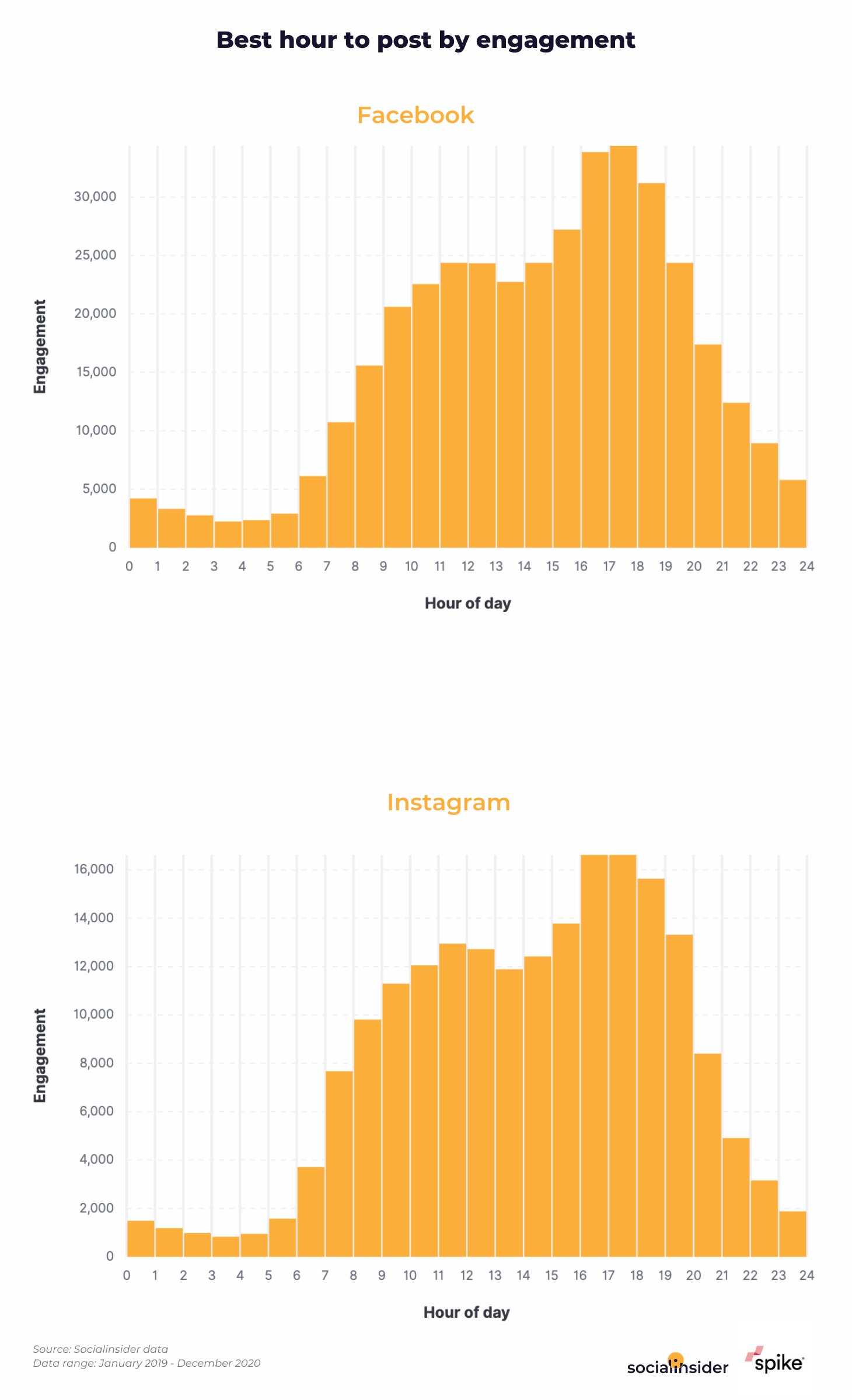 ---
Now that we've seen an overview of how the social media landscape looks for the UK market, we thought about explaining the results we've got by showing some particularities of every social media industry analysed.
1. Cottages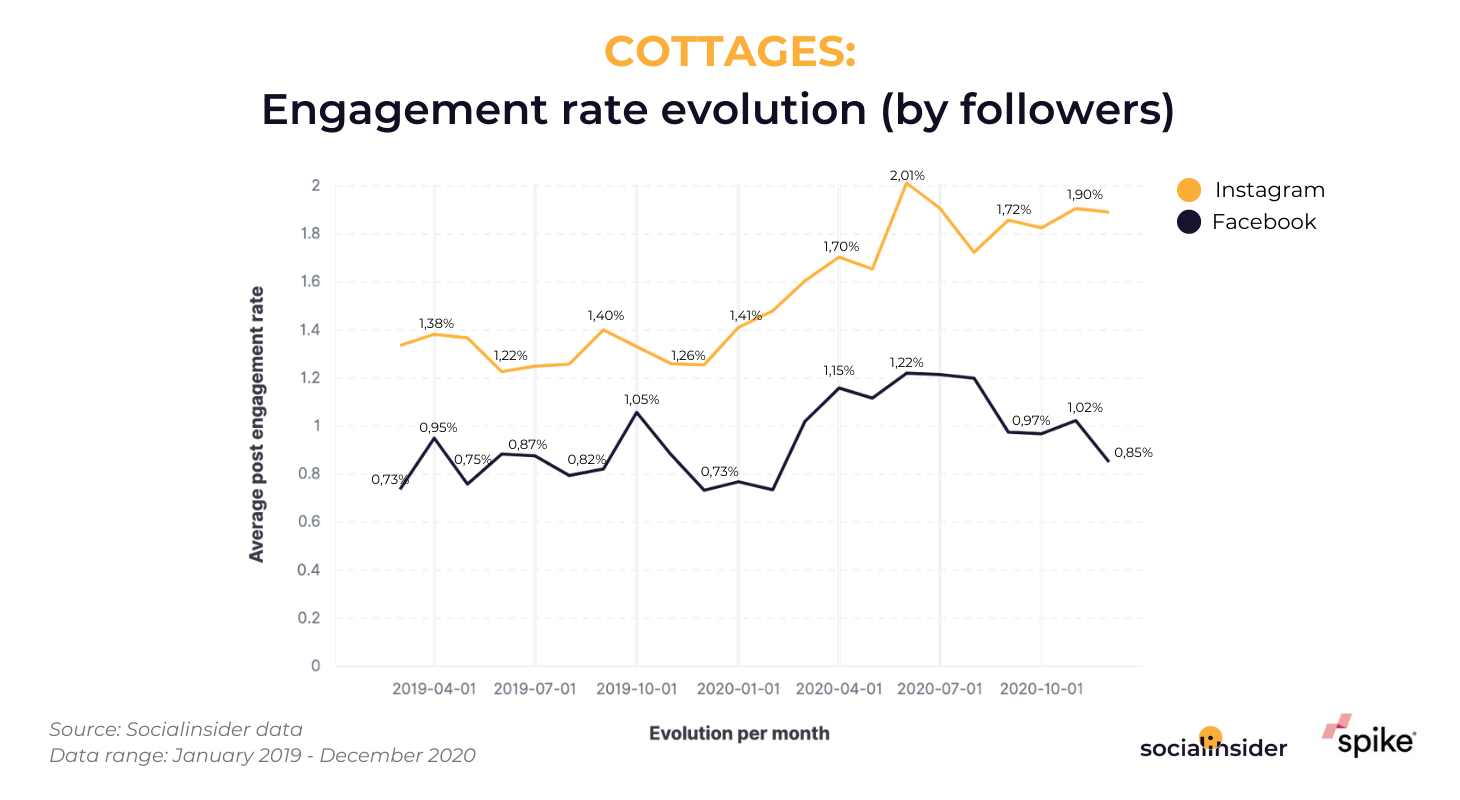 When it comes to the accommodation market for the UK market, in 2020, on Facebook, cottages had an almost doubled level of engagement when compared to hotels.
This may be because given the social context, people tried to be more isolated and therefore cottages fulfilled this criteria more than hotels.
Over the past two years, the cottages segment has succeeded in improving its engagement values on Instagram, increasing from an average of 1.3% to an average of 1.9%, which can be translated into an increase of 46%.
Whilst there had been some in social engagement on Facebook as well, this was followed by a significantly decreasing rate, with values falling to 0.8% engagement.
2. Hotels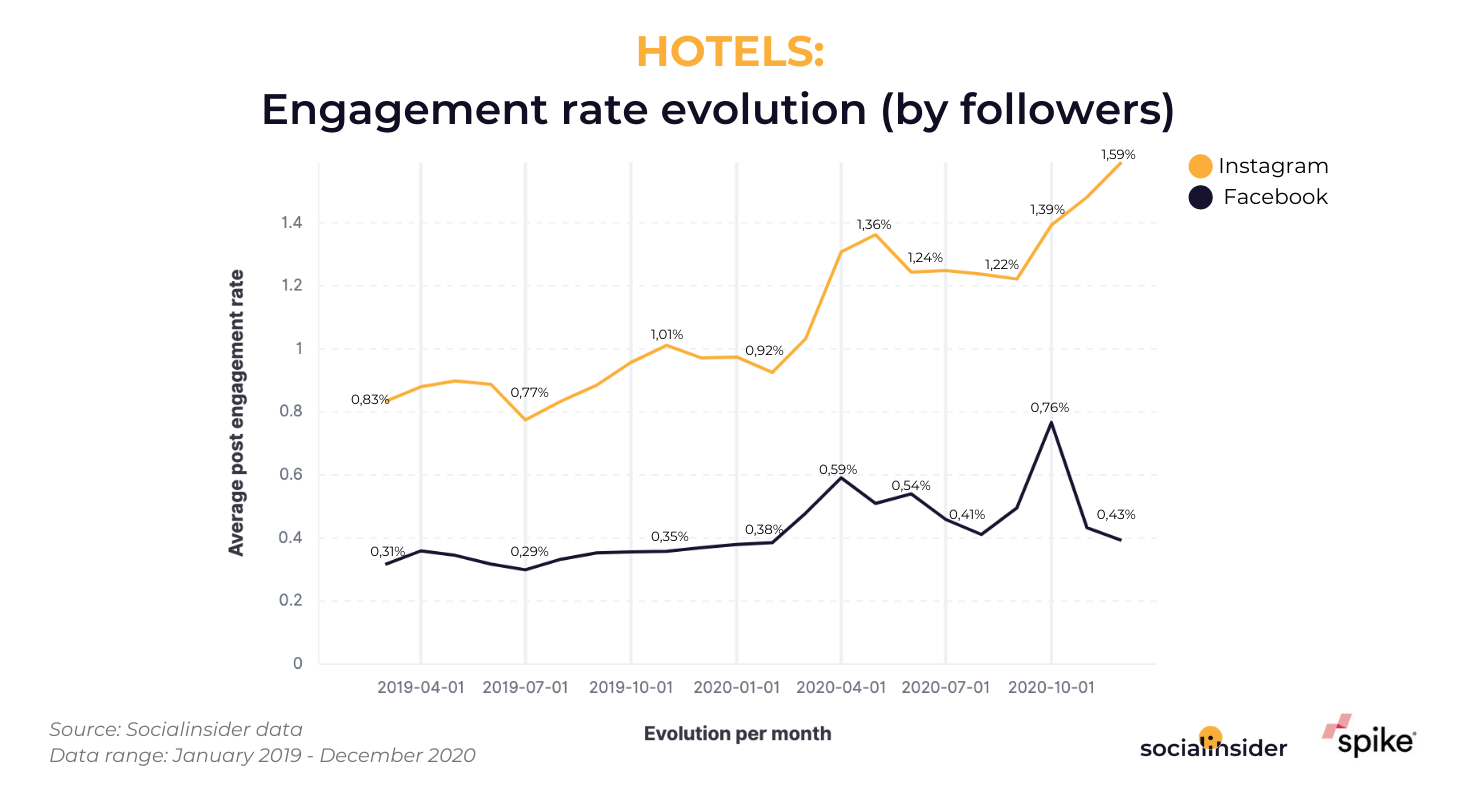 Gaining awareness about the importance of a social media presence, the hotel industry has also leveled up in terms of digital performance.
If in the first quarter of 2019, the Instagram engagement rate indicated a poor 0.8%, nowadays brands seem to have found the right path, according to the continuously ascending line, reaching values up to 1.5% and still growing. Here we find a massive growth of 87%.
Although Facebook's values are pretty far behind, on this platform, there has been evidence of some improvements.
The spike was seen in the last quarter of 2020, but now the values have been significantly dropping, until 0.3%, same as most of 2019.
Could all this activity be attributed to the pandemic, with people forced to stay more in the house, therefore increasing the social media consumption, dreaming about and planning their next holiday when times allow it?
Or is it just a more efficient use of social marketing strategy to cause such a rise?
That's something we should continue to analyse.
3. Jewelry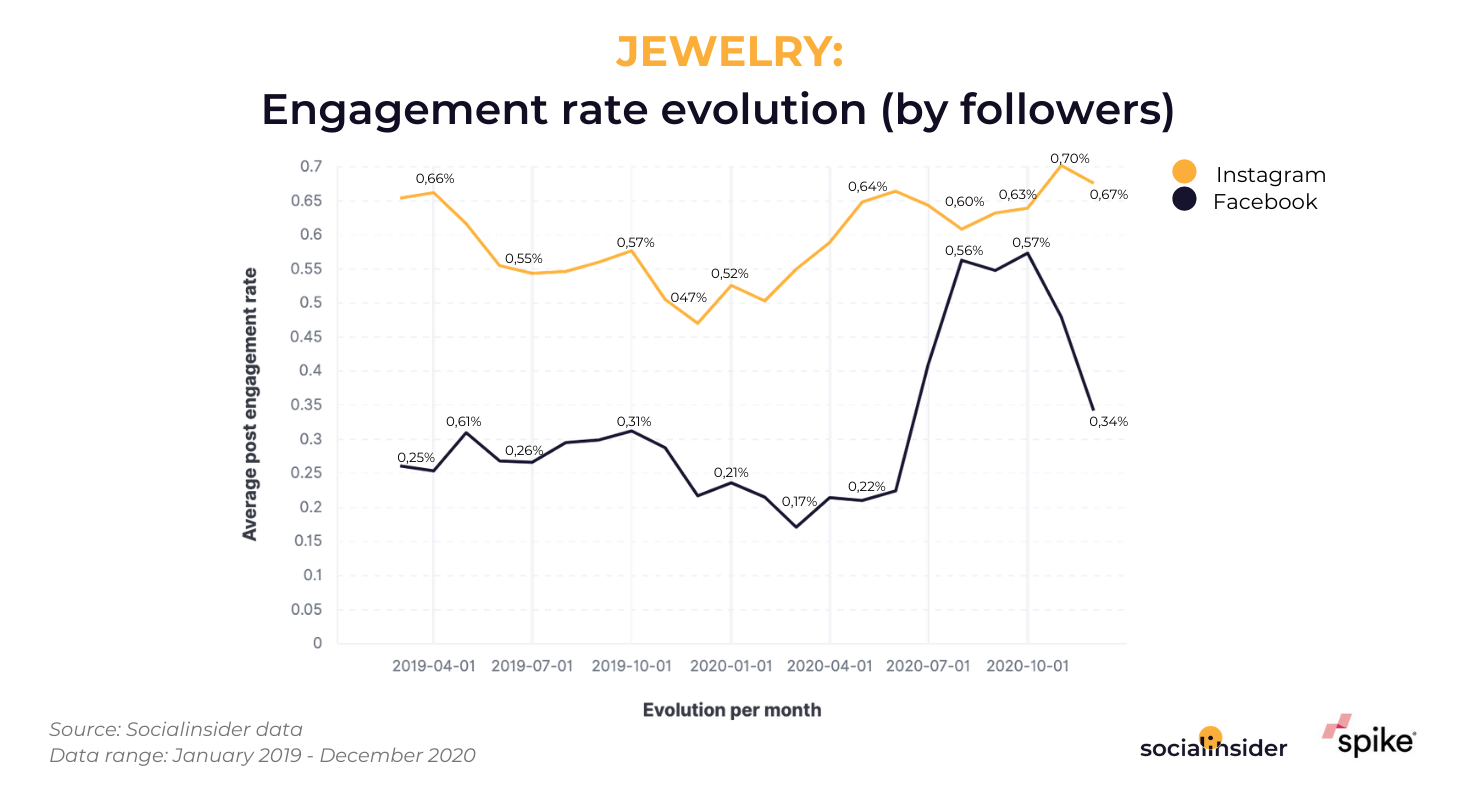 Among the industries analysed, the jewelry category is the one with the lowest engagement rate on Instagram on UK, currently being located somewhere around 0.7%. This is a rather interesting fact given its strong visual nature.
What's also worth mentioning is that, starting with the first half of 2020, on Facebook, the jewelry segment has seen a growing wave, doubling its engagement, but only for a short period of time, decreasing back to its initial values from 2019, of 0.3%
4. Health & Fitness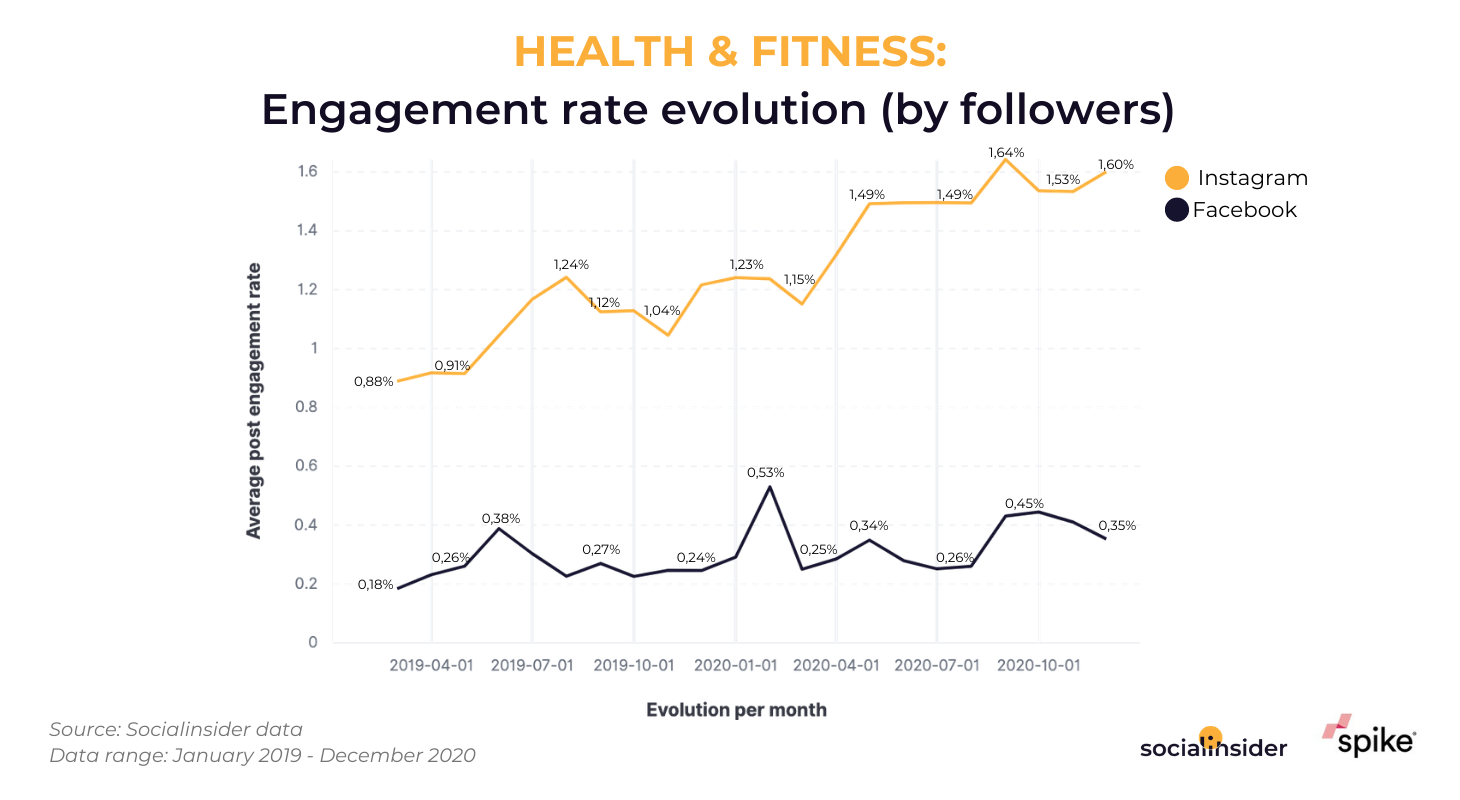 As expected, the health & fitness industry has significantly increased its popularity on Instagram as well.
With more and more people trying to adopt a healthier lifestyle, especially with the extra spare time, during the lockdowns, it is a natural uplift effect.
On Instagram, from 0.8% engagement rate in 2019, it has increased up to 1.5% nowadays. The impressive growth of 87% met earlier, is applicable in this case as well.
With Facebook, however there's another story, since the engagement level has remained only steady throughout the same period.
5. Art & Craft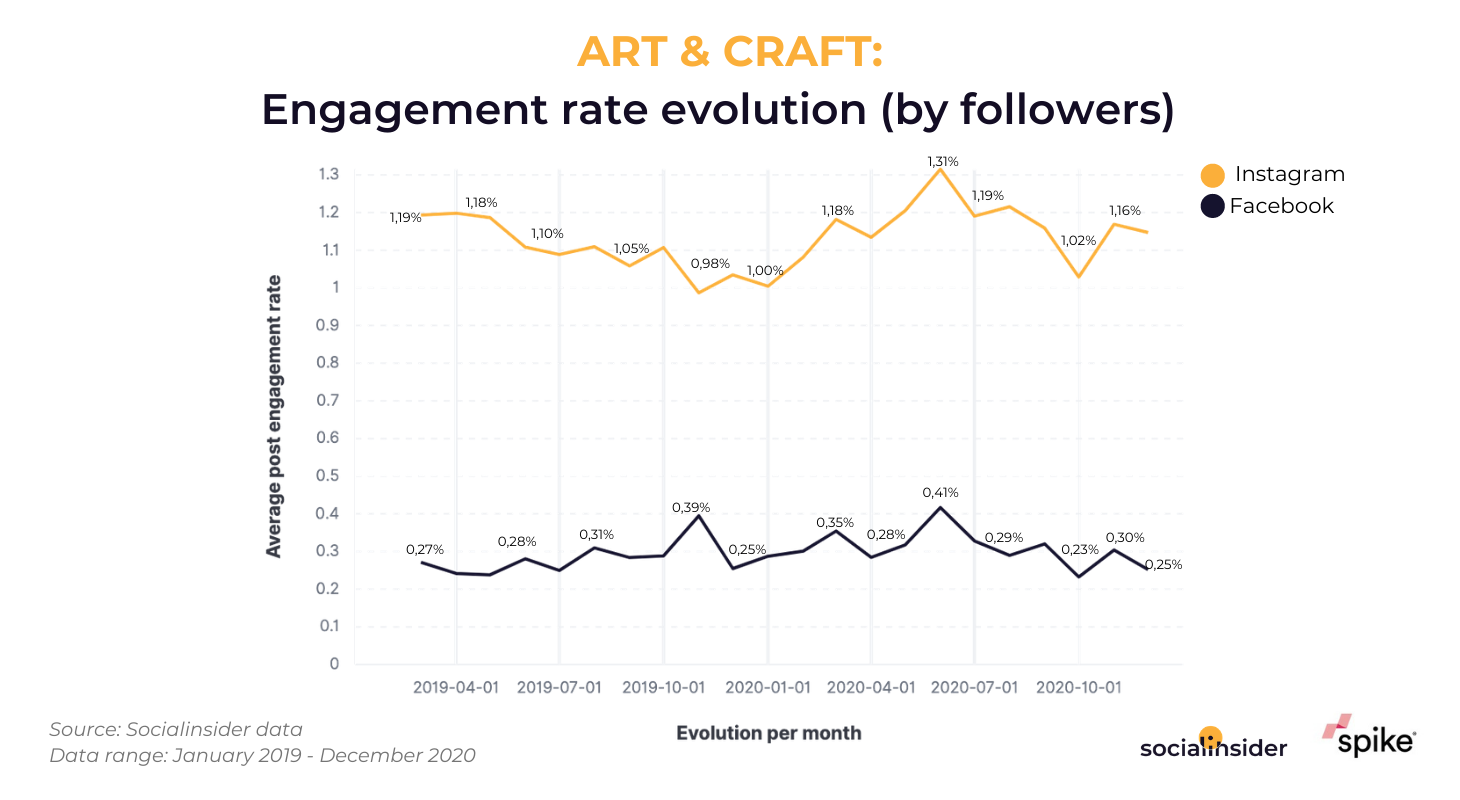 The arts & crafts segment is one of the few that did not record notable changes, in terms of engagement, having now values equal to the ones back in 2019, of 1.1%.
The same tendency was kept also on Facebook, having an average engagement rate of 0.2% in 2021, as well as for the last two years.
6. Artist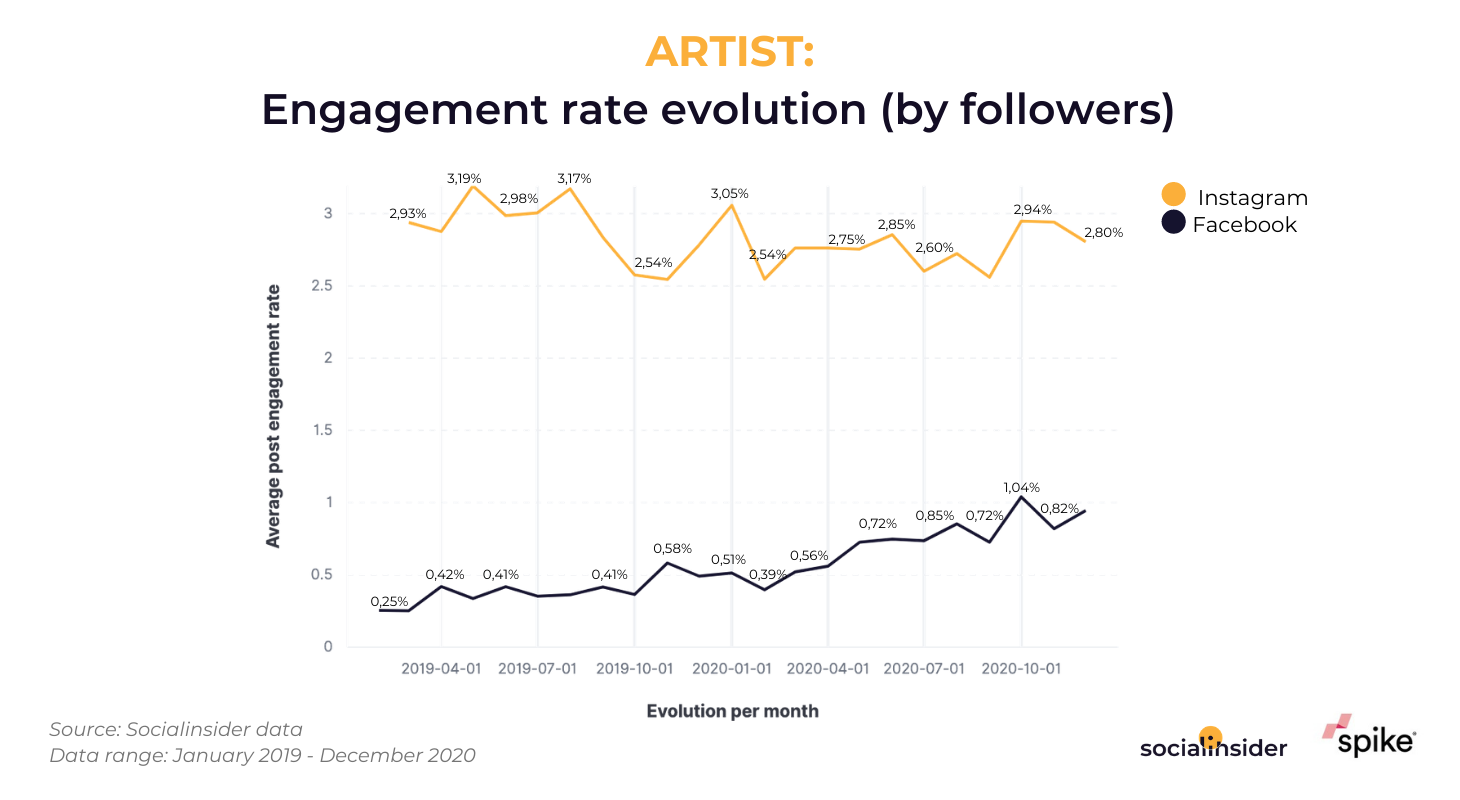 We've talked about the industry with the lowest engagement, and now it's time to turn the leaf and head over to the ones with the greatest values, such as the artists category from UK.
From just a glance, it is obvious that they are killing it on Instagram, having an engagement rate located somewhere at 2.8% at the moment.
Their success may be due to the fact that, in this case, it's far easier to take the approach of a personal brand, towards which people are more open to, because it evokes the feeling of authenticity.
The likeability of this type of account is that rather than seeing it as a way of selling and promoting a product, people feel inspired by them.
Seeing how other industries are struggling with keeping a high engagement level on Facebook, although still very far away from Instagram, for this unique category, there was a clear increase in engagement over time.
It is the only category with values of 0.8% engagement rate and still growing.
So maybe a sneak peek of what they're doing may be inspiring and replicate good results for others as well.
7. Singer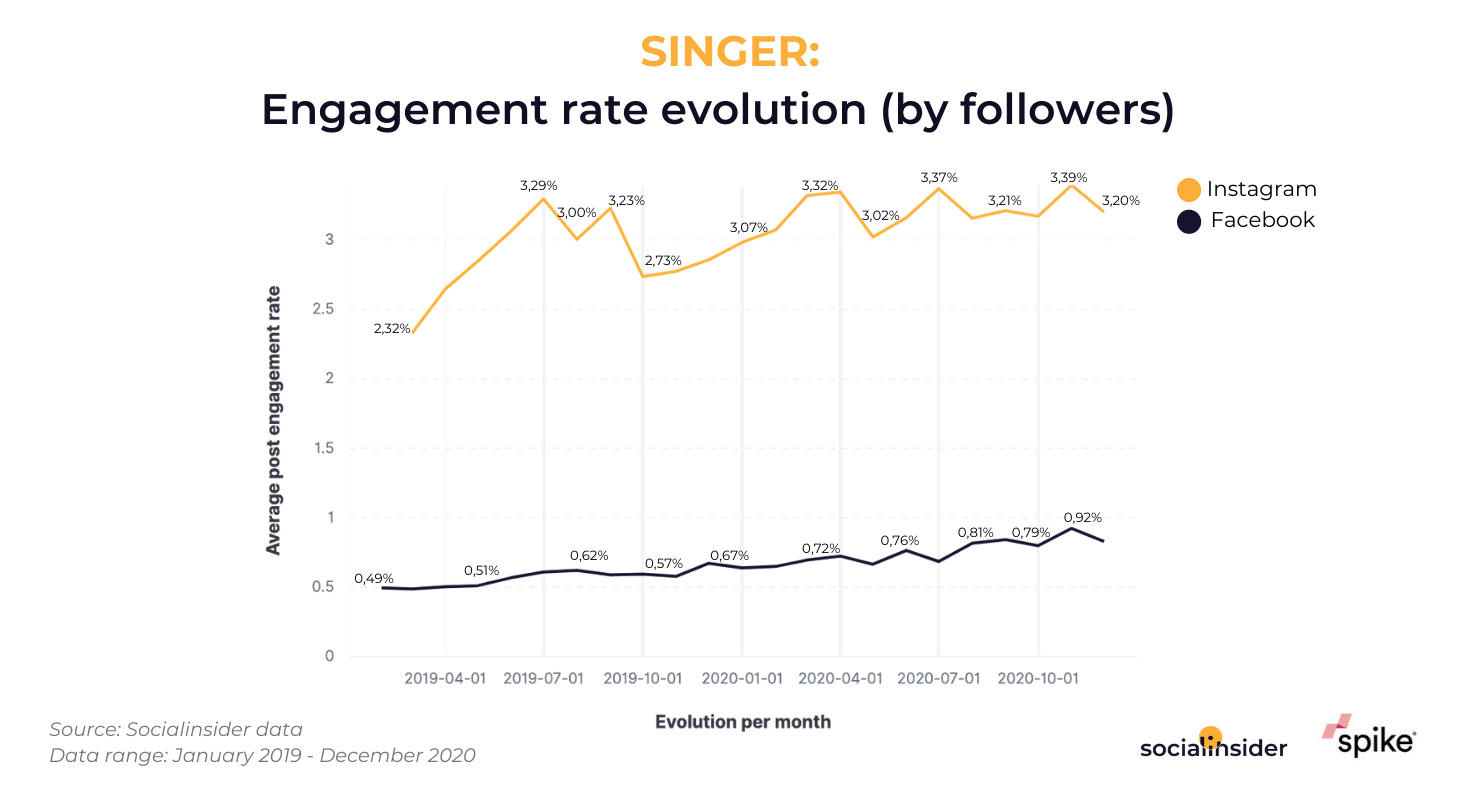 Surely when you think about the singer's market from the UK, great names like Ed Sheeran, Dua Lipa or Harry Styles, just to name a few, pop into your mind.
And with these big names representing the country, there's no wonder why the entertainment sector is so important for the UK's economy.
This may be also the reason that can explain the numbers we've got for this analysis.
By achieving a great mix, between entertaining, inspiring and promoting themselves, the singer's category has some stunning values when it comes to the engagement rate on Instagram, with a maximum of 3.2%.
Also being located at an average engagement rate of 0.8% on Facebook, this industry is slowly but steadily increasing their engagement, as is the whole music industry segment.
8. Musician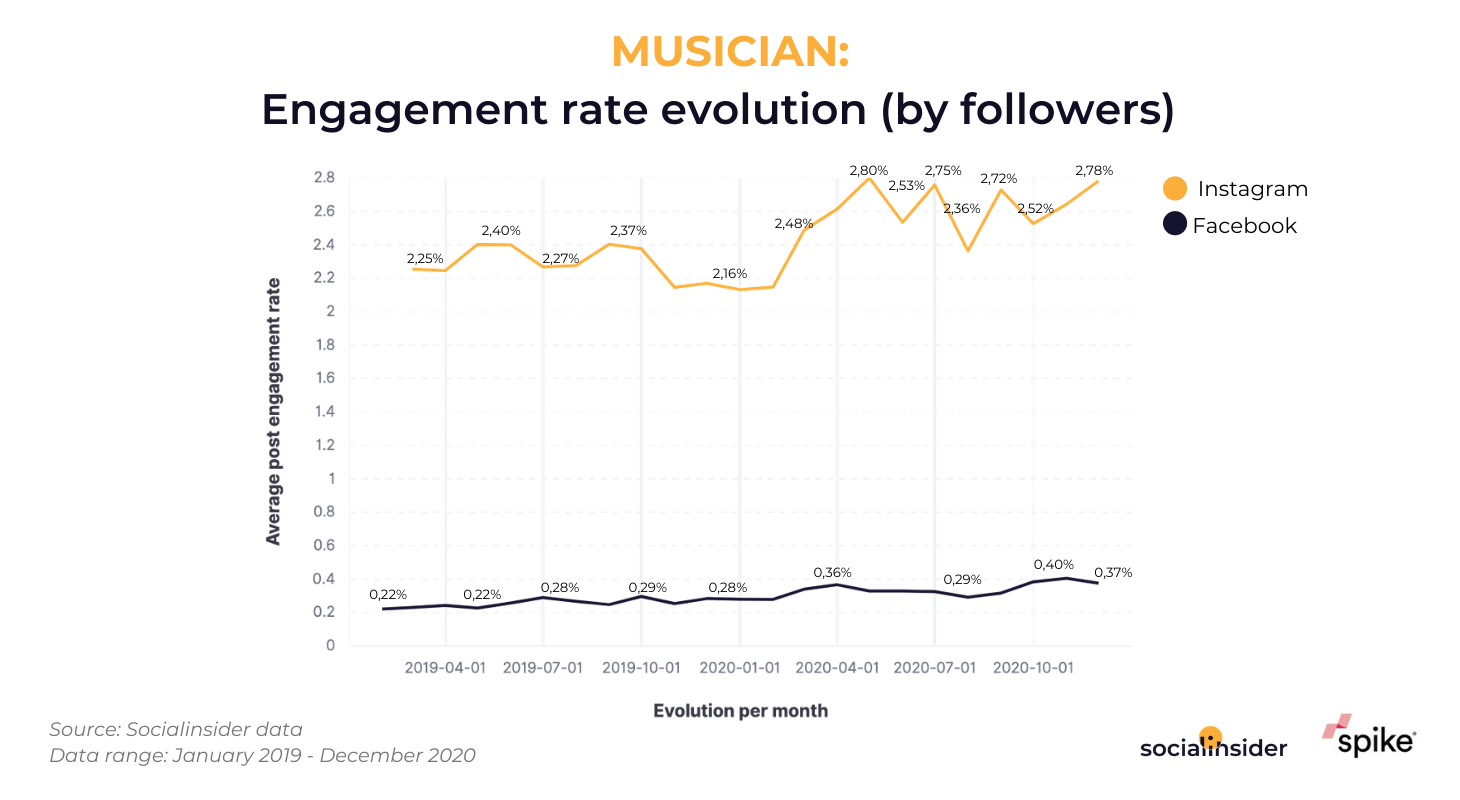 Keeping its engagement values between the benchmarks of the broader theme, on Instagram, musicians are also doing pretty well.
Starting with 2020 the engagement rate, this has started to increase and kept its upward trajectory, in the present being positioned somewhere at 2.7%, registering a growth of 22%, while on Facebook the line is mostly steady, reaching values of only 0.3%.
9. Dj's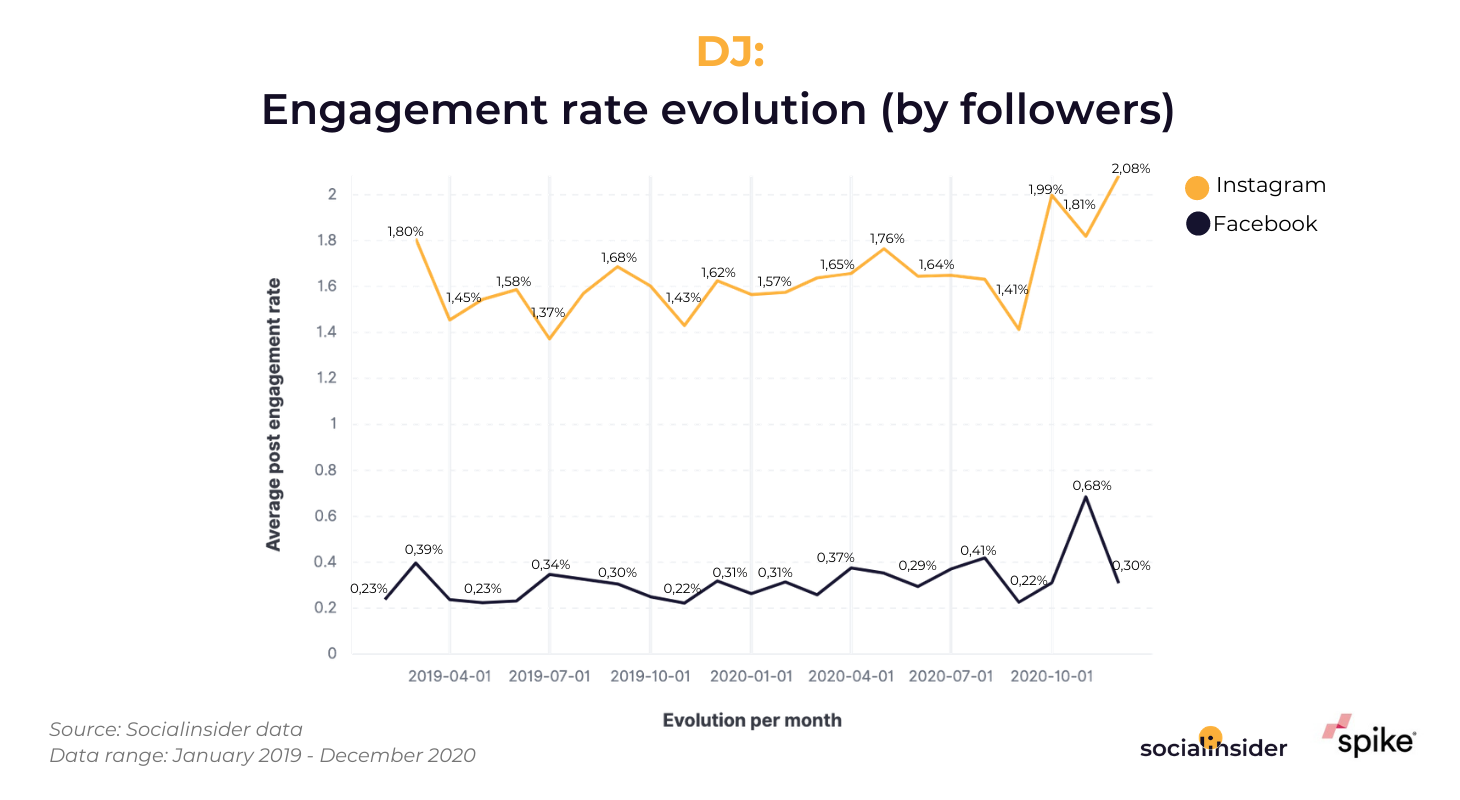 Now that we've gotten used to how the landscape looks for Instagram, we'll just state that here the average engagement rate has a value of 2.0%.
The more interesting focus point is, at this time, Facebook.
Having increased up to 0.6% engagement rate, at the end of 2020, now has returned to the regular 0.3%, but since they've seen what seems to resonate better with the audience, they could turn the scales in their favour once again.
10. Broadcast-star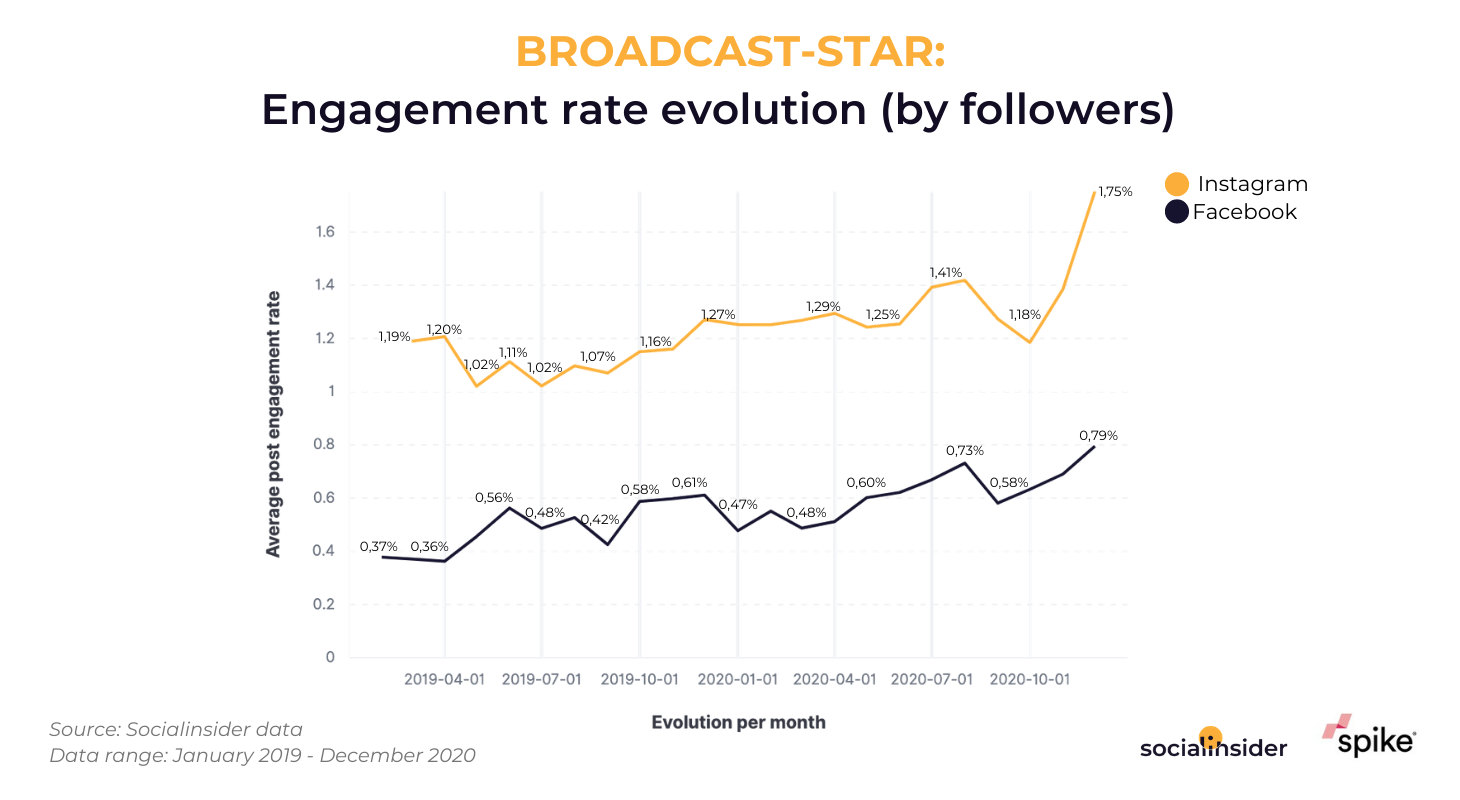 For this last industry, we can again see the engagement's growing potential. Starting with the last quarter of 2020, the line has significantly gone up, increasing from 1.1% to 1.7%.
It's particularly striking that this category seems to have found the successful recipe for increasing the average engagement rate on Facebook.
Starting with values of 0.3% in 2019 it has been only going up, slowly, but steadily, at the moment, reaching values up to 0.7%.
Final Thoughts
We know Instagram has been taking the social media landscape by storm, and nowadays pretty much everything is about Instagram, due to its fun and inventive nature.
Seeing these engagement statistics for the UK market, it's more than clear why brands must put a lot of effort into their work when communicating on social media, since, in the end, it will be all rewarded by their communities, which will also help them continuously improve.
And although the engagement rate per post generated on this particular platform is undeniable, we must be aware of how social changes reflect on the digital environment as well.
This is, in the end,  is the key to explaining 2020's big rates and for the fact that slowly Instagram seems to head back to its initial engagement rate values from 2019, as we have shown in the dedicated study.
But now, with these social media industry benchmarks for the UK market, you can explore your top strength points as a brand and start planning.
B. Methodology
For this UK benchmark study there were 379,768 Facebook and 195,009 Instagram business posts analysed.
What we define as engagement represents the total number of likes and comments for Instagram, and the total number of comments, reactions and shares for Facebook.
The average engagement is understood as the sum of interactions divided by the number of posts.
The average engagement rate per post is defined as the average engagement of the posts divided by the number of fans or followers the page has all multiplied by 100.
Related articles: